Kid Museum 2016
From Team 449 Wiki
KID Museum 2016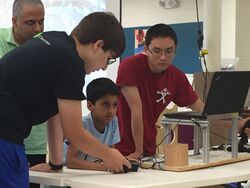 Sam and Josh teach a kid how to drive the robot.
Event Details
| | |
| --- | --- |
| Date: | July 16, 2016 |
| Location: | KID Museum at Davis Library |
KID Museum 2016 was a collaborative event with Walt Whitman High School's robotics team, Team 1389, at the KID Museum in North Bethesda, Maryland. We brought ROUS to the KID Museum's Robotics Day to demonstrate to the event's participants. Children were allowed to drive the robot, and our members also helped them out at other stations. Urjita and Laura presented with the students from Whitman.
Reflection
What Went Well
Positive feedback from participants and their parents
Robot was functional
No one was seriously hurt
What Didn't go as Well
Robot was not on time
Coordination of item delivery was last-minute and disorganized
Robot was not functional when it first arrived
There was a stick of glue in the robot
We were short on batteries
The kids at the event didn't know they could drive the robot
Whitman was there and we didn't plan to work with them beforehand
What is going to be done
Create short presentations or PowerPoints
Have a set of talking points so people don't just make up stuff
Aim to perfect the process of planning through forms
Have more signs and handouts specifically for outreach
Things that are not necessarily Outreach but were discussed
Media
KID Museum Blog Post: http://kid-museum.org/blog/robotics-day-at-kid/

449 Tweet: https://twitter.com/FIRSTteam449/status/754380473149849600